How to work with Seedpods
🌱 Open your subscription box, and carefully remove seedpod packages right side up - just like an egg carton. Locate the included plant food tablet and set aside for now.
🌱 If you received more than three cartons, store any extra cartons for up to 2 weeks* - you'll insert them into the nursery after your first set of seedlings are established and transferred up.
*NOTE: If you are not inserting all seedpods into the nursery the day you receive them, they need to be stored in a cool, dry, and closed space like a kitchen cabinet, cupboard, pantry, or cellar. The maximum time we recommend storing your seedpods for is two weeks. Seedpods that are stored for longer periods may suffer from desiccation or decreased germination rates. 
☝️ Starting up your Farmshelf for the first time? See first steps here.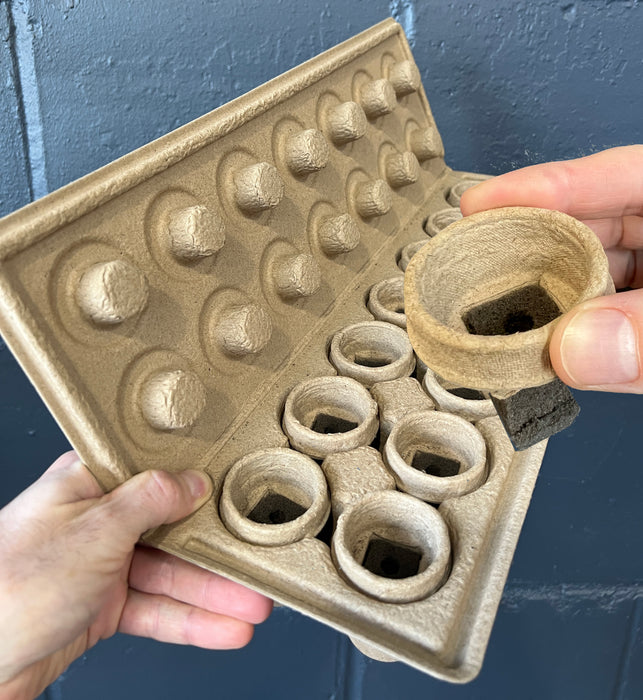 Humidifier and starting the Nursery
🌱 Locate the humidifier on the inside of the nursery door (see green arrow in photo).
🌱 Fill humidifier with clean water to the max fill line, and feed inlet tube into humidifier.
🌱 Turn the nursery on by visiting your Farmcloud web or mobile app: go to the UNITS tab, checkmark the Nursery ON, and hit UPDATE.
NEED HELP? Try our Help widget in the bottom right corner of this website, or write support@farmshelf.com.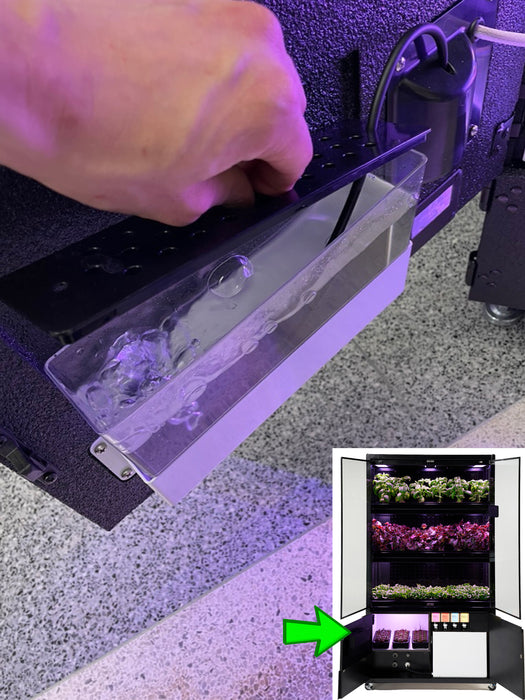 Inserting Pods, Water and Plant Food
🌱 Transfer seedpods to the three nursery trays - each carton contains enough seepods to fill one nursery tray.
🌱 Fill your nursery watering vessel with clean water to the max fill line, and dissolve plant food tablet into the water vessel.
🌱 Once food dissolves, remove the three black nursery caps and fill each of the three nursery tray basins with water from the vessel (about 1.2 L total). Do not fill to the very top - you want to avoid wetting the beige seedpod holders.
🌱 Put the black caps back into place on the nursery trays. It's important to keep holes in the trays covered/sealed. Close the nursery door, and wait for the allotted time.
🌱 Day 6 - Remove the fill caps from the tray covers to see if the water level is low. If at least ⅓ of the growing media is submerged in water, you can replace the fill caps and close the nursery. If the water level is low, top off with fresh water. Close the doors and allow for another 2-3 days of germination before checking on the crops again. 
NOTE: The humidifier should keep for the full 14 days and should not need to be refilled.

🌱 Day 14 - Open the nursery to see if your seedlings are ready to move up to the grow shelves.  Most plants will be ready for transferring in 14 days. Once you see the formation of true leaves you are ready to transfer up.