Starting up for the first time
🌱 Welcome to Farmshelf! We can't wait to get you growing. Download and review the full steps in your user manual - for hardware, software, and plumbing details, harvest guide, cleaning, and app directions. Pro tip: Print and send to your staff.

🌱 The power switch and socket are located on the back, right corner of Farmshelf. Ensure you have an available power outlet close by (120VAC, 8amps). Plug in the provided power cord, and flip the power switch to on.

🌱 We encourage you to level and lock the wheels of Farmshelf using the leveling casters.

🌱 Let's get started! Create your account for your web-app - Save this link. NOTE: Your account can take up to 24 hours to process and receive a pairing pin by text message to your phone number. This is not an app to download.

🌱 Order your Seeds. Once your pairing pin can been sent via text, you'll now have access to the 'subscriptions' tab on the web-app (link above). Click on a subscription and order per subscription (1 subscription = 1 Farmshelf)

🌱 Confirm with your IT any restrictions or securities that could potentially interrupt your Farmshelf from being permanently connected to internet - if you would like to pair your Farmshelf.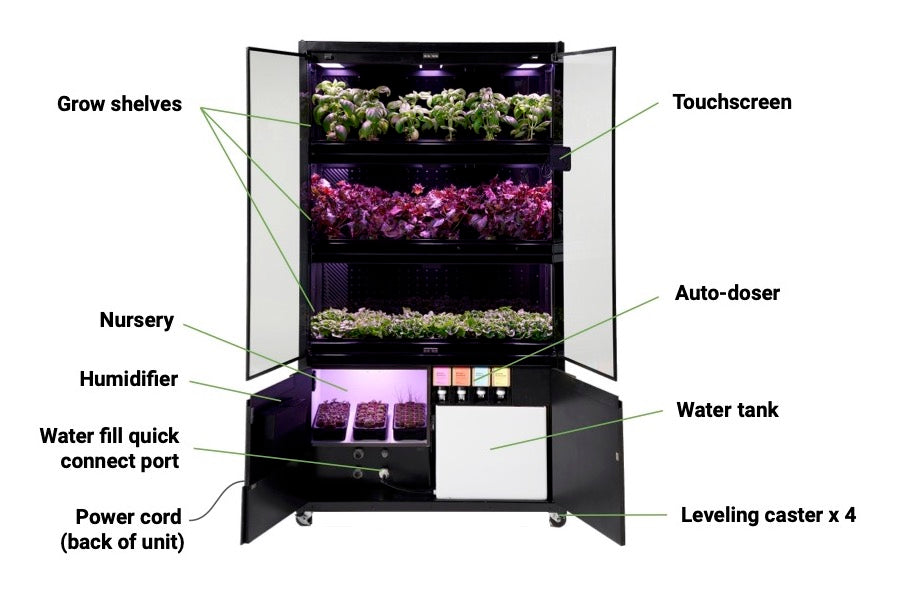 Seeds, Nutrients & Starter Kit
🌱 Ordering Seeds: Your Seeds can be ordered once you create your account, with or without an internet connection. Care tips can be found in the quick tip 'Seedpods' below.

🌱 Note: Once your seedpod order is placed, your web-app will display a confirmation message. Please allow for 24 hours of processing time and up to 7 days for delivery.

🌱 Note: Your Nutrients will arrive with your seed order with instructions. Review and save the quick tip links below 'Nutrients'.

🌱 Remove all starter kit items from the Farmshelf water tank. Store these items in a dry, clean place. You'll learn when and how to use them throughout the crop lifecycle. Gentle pull the water tank (shown in image above) to find:

Microfiber cleaning cloth, Trimming shears, Black caps, Nursery watering vessel, 1-time Hydrogen peroxide cleaning solution (for cleaning), Nursery nutrients (not to be mistaken with shelf nutrients), and a Cleaning squeegee.

🌱 Remove all visible packaging tape and the QR sticker from the Farmshelf before use.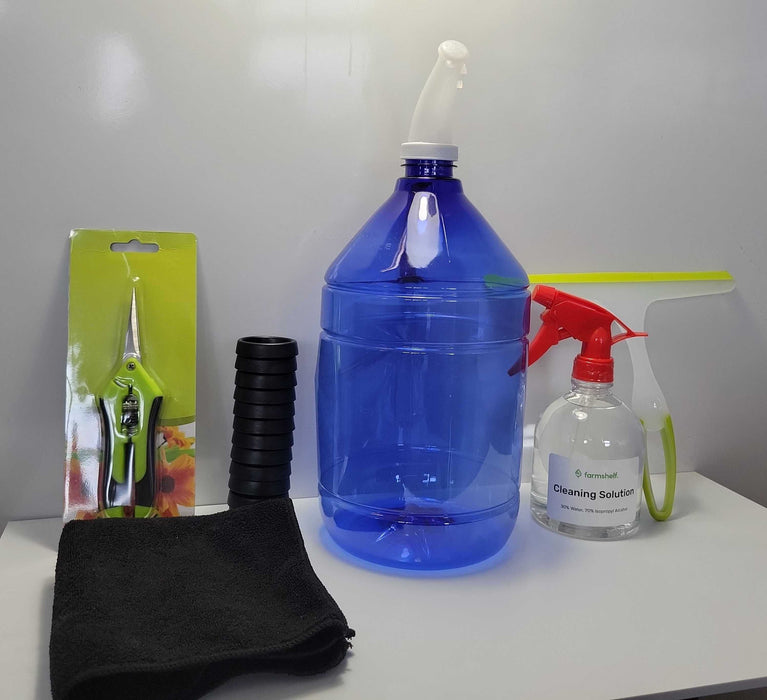 Activate your Farmshelf
🌱 Using the touchscreen on the right door of your unit, follow the on-screen prompts to connect Farmshelf to internet.* You can use either Wi-Fi or ethernet. For ethernet, port is located on back of Farmshelf.
🌱 Once connected to internet, the touchscreen will ask you to verify your subscription that you want to associate with that unit. When prompted, enter onto the touchscreen the pin you received via text message. You should have received a pin for each subscription corresponding to each unit that you own.
🌱 After the pin is entered and the unit is successfully authenticated, the full touchscreen interface will load within 15 seconds.
*NOTE: There is a default setting that will allow you to continue the program directly from the touchscreen without the use of the internet. Please contact support@farmshelf.com. Warranty may be impacted if Farmshelf is without internet.